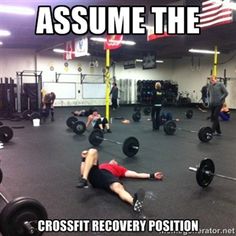 Great job everyone! This was definitely the feeling after todays workout:)
Member Info:
Beyond The Whiteboard: If you are in regular class you should be logging your workouts on BTWB. If you are not on there please let me know, and I will assist you through the navigation process. You can also log in from our websites home page by clicking the icon.
If you have not noticed we have the leaderboard posted on a TV screen in the gym. We would like everyone to start logging their workouts, this helps you as a athlete keep track of your progress and PR's (personal Records)
House Cleaning : We are asking everyone in the gym to help keep your gym respectively organized and clean. Let's make sure that we put away all of our weights and any bands that are being used. Also be mindful when using the restrooms for others that may be using them after you!
Wod
Strngth: 3 pos clean: (high hang, mid thigh, floor)
60%x3 65%x3 70%x3
Metcon: For time: 75 Med Ball Clean To Wall Balls, 20/14 lbs